Why Get Electrical Repairs with Our Electrician Team?
Every company needs electricity on a daily basis. Top-quality, skilled electricians will help your enterprise run smoothly and efficiently. Over the past several years, we've helped dozens of companies in the Broward County and Boca Raton area of Palm Beach.
Our electricians are licensed and insured to perform commercial electrical work. They are particularly trained to focus on electrical systems of buildings used for commercial purposes.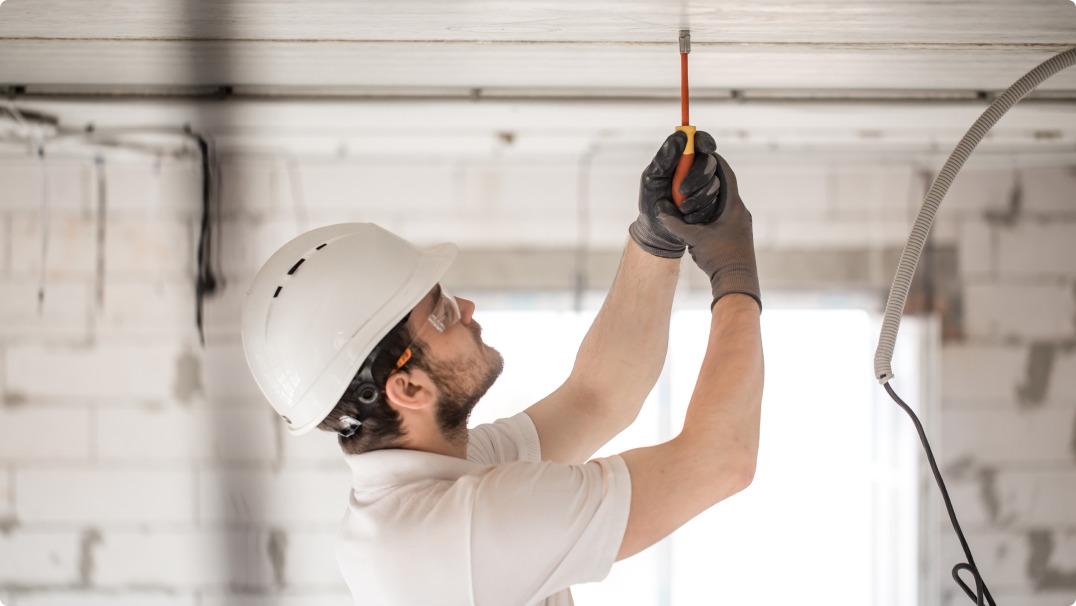 Is an Electrical Contractor Needed for Your Business?
Generally speaking, companies who hire professional electrical contractors are less likely to waste energy, meaning they have fewer electrical accidents and remain well-maintained a majority of  the time.
However, there are more particular reasons why hiring a contractor will provide the best electrical service for your business:
It is a complete electrical solution. When you hire an electrical contractor, you delegate full responsibility to the electric company. This gives them the freedom to manage their time and resources wisely so that no extra resources are being used. 
Detailed electrical maintenance is done on a regular basis. Preventing electrical faults from happening is always smarter than dealing with faults that have already occurred. Only scheduled electrical maintenance can make this possible.
Lower cost and better rates. Professional electric companies often make special, customized deals for broader services. A yearly contract will undoubtedly let you cut the cost of your electrical services.
Personal touch. Working with the same businesses for some time allows electrical companies to be aware of the businesses' needs and limits  better than the businesses themselves.
Record keeping and maintenance history. This is what helps electric service companies better understand the needs and problems a business is facing. They then use this to find timely and efficient solutions.
Premier Electrical Services is ready to take good care of all the electrical repairs so you can run your business without worrying about your flickering lights! 
Commercial Electrical Repairs
Repair Your Electrical Equipment and Lighting Fast, Proficiently, and at Any Time. Our electricians quickly repair all your electrical issues at virtually any hour you need us. This might include problems with:
Interior/Exterior Lighting
Faulty Ceiling Fans
Electrical Panels [include a link to the page about electric panels]
Malfunctioning LED Lights
Wiring
Light Switches & Outlets
Circuit Breakers & Fuses
What's the Price of an Electrical Repair?
We approach every client personally. This means that we set the price for your services only after we carefully estimate and assess the building.  
All of our  estimates and assessments are free of charge so we could see if we are a good match for each other. 
We strive to keep people safe and businesses functioning without a hitch, therefore, we offer a 100% satisfaction guarantee.
You are just a call away from great electrical installations!
Why Trust Your Electrical Installations to Us?
If you'd like to  redesign, for instance, the layout of lightning in your building, we are ready to implement your design ideas! Our electricians will make sure all the installations are clean, aesthetically appealing, and well-arranged, and your electrical outlets and circuitry are safe and mutually compatible. 
We strive to build trust-based relationships with each of our clients. We carefully assess and estimate each case so that our clients can run their businesses smoothly. 
Once our work is done, we offer a 100% satisfaction guarantee.  
Our team is skilled, experienced, well-equipped, and is available virtually any time.
Our Electrical Installations Comply with National Electrical Standards
In their work, our electricians follow The National Electrical Code so you can be sure  our installations are safe.
Commercial electrical installations may vary according to the building, environment and any hazardous components, some key installations that we perform include:
Convenience outlets
Lighting
Distribution panel board
Service entrance
Branches and feeders
Emergency lighting and signals
…and beyond!
What's the Price of an Electrical Installation?
Every business's needs are unique. This means the price for our electric services depends on the assessment and estimates of each particular case. 
We offer our assessments and estimates free of charge. This way, you can better understand your business's requests and limitations and see if our company is the right solution for you.
We get the job done and done right the first time, so a 100% satisfaction guarantee is offered. 
CTA: To see our unbeatable professionalism at work, call +1 954-900-1696
Regular Commercial Electrical Maintenance Is Key
You don't think about electricity until something stops working. Scheduling electrical maintenance is absolutely crucial for any business. Ensuring that your business doesn't have any electrical risks will help:
Avoid losing data, revenue, and decrease downtime by preventing electrical accidents. Even if everything seems to be running fine, you will never be able to detect small issues that might lead to big trouble and the loss of money. 
Keep the working environment safe for people. Your responsibility as a business owner is to keep the building safe for your employees, customers, and residents. Having your property checked regularly by our skilled electricians will allow you to be sure everything is safe. 
Make the best of your equipment lifecycle by conducting regular checks. Regular maintenance of your electrical equipment, machines, appliances, and outlets will save you from major electrical mishaps. Moreover, performing small repairs is usually cheaper than repairing the equipment when it breaks down completely. 


All of this saves you time and money that you can instead spend working on your business. Let us take care of your commercial electrical maintenance in the Broward County and Boca Raton area of Palm Beach!
Advantages of Our Commercial Electrical Services
You can hire a firm every time you need electrical maintenance or repairs. Or you could find a single electrical contractor for all necessary electrical services. The latter often turns out to be efficient, cheap, and more beneficial for the business. 
So why do businesses stick to electrical contractors?
100% safety. Performing electrical repairs on your own or with the help of unskilled staff could result in a very serious injury or even worse. Hiring a team of trained, certified electricians isn't a luxury but rather a wise and well-thought-out decision.  
A full solution for your business. Electrical contractors  will take responsibility for all of your electrical issues and diagnostics. Seasoned professionals will manage your electrical issues properly and timely much faster and better than you would do it yourself. 
Maintenance is performed at the right time. Usually, the electrical contractor is well-aware of detailed services needed in electrical maintenance and how often it needs to be performed. 
Record keeping and electrical maintenance history. The electrical contractor works closely with their clients. Keeping a log of electrical issues helps them better understand the businesses' needs and limitations, so they could better allocate the resources and schedule electrical services.  
We will let you enjoy all the benefits of having an electrical contractor!
Our Company Performs a Wide Variety of Electrical Maintenance Services
We manage to keep your business out of electrical accidents and costly repairs by performing regular electrical maintenance on:
Power Outlets
Surge Protectors
Circuit Boards
Generators [include a link to the page about generators]
Lighting Systems
What's the Price of Electrical Maintenance?
All our estimates and assessments are free of charge. This way, we can  carefully inspect your case and better see how you can benefit from your electrical maintenance services.  
We strive to deliver the best services to our clients, so we offer a 100% satisfaction guarantee.
Schedule your first electrical maintenance today